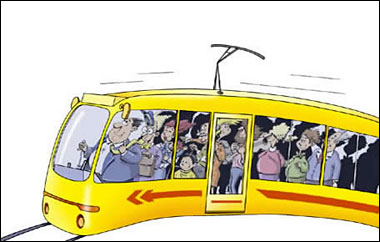 Light Rail Day 2019 i København

22.10.19
Konferencen afholdes d. 4.-5. novenber og har i år flere indlæg fra letbaneprojekter end normalt.
Light Rail Day er den eneste internationale konference for letbaner i Norden. Den startede som et dansk arrangement i 2009.
Der bliver i år flere indslag om letbaner. Der er lige nu særlig stor aktivitet i Norden. Der kommer desuden en stor deltagelse fra Finland.
Konferencens program ses herunder og foregår på engelsk:
---

Monday 04.11.19 - Excursion starts
"Metroselskabet", Metrovej 5, 2300 Copenhagen S
(use Metro Station "Vestamager")
10:00 - Registration starts
11:00 - Bus trip along the future line of Ring3 Tramway with guides from "Metroselskabet".
13:00 - Busses at CfL
Conference at CfL
Folke Bernadottes Allé 45, 2100 Copenhagen Ø
14:00 Welcome
14:30 Henrik Plougmann Olsen, CEO Metro Copenhagen
15:30 Per Bruun Madsen, Senior Consultant MOVIA, Copenhagen "Keep your passengers – Bus operation until Tramway opening"
16:15 Jacob Lundgaard, Team leader, Principal Consultant, Copenhagen Municipality "Lightrail in Copenhagen"
16:45 Anders Rody Hansen, Senior Adviser, Danish Transport Federation, Danish Industry + Søren Bom, senior consultant, Regional Development, Capital Region of Denmark "Urban development perspectives"
17:15 Thomas Potter, Member of the board, Bergen, Norway "NLRA, Collaboration between traffic companies in the Nordics"
18:00 lectures end

19:00 Networking Dinner
- at Restaurant Mastek, Dampfærgevej 8, 2100 København Ø, only 5 minutes on food from CfL
Awarding Nordic Light Rail Price in second degree to HP Larsson, Sweden Laudation is hold by Thomas Lange, Stockholms Spårvägar
---

Tuesday 05.11.19 - Conference day
CfL, Folke Bernadottes Allé 45, 2100 Copenhagen Ø
08:30 Registration starts - 08:55 Welcome
09:00 Mario Rivera, Project Manager, Uppsala Light Rail, Sweden "Uppsala Light Rail – short status"
09:25 Ville-Mikael Tuominen, Project Director Tramway, City of Tampere, Finland "The Tampere project – in time and in budget?"
09:55 Håkan Henmyr, Project leder, Skånetrafiken, Hässleholm, Sweden "Tramway Lund, strategic urban development in joint project between Region Skåne and the city of Lund"
10:30 Coffee break
11:00 Raimund Jünger, Expert – Urban Rail Standardisation, UITP Brussels "My tram runs on standard gauge! What standard?"
11:30 Lauri Kangas, Planner, Helsinki, Finland "Intercity Tramline Espoo – Helsinki. The Jokeri Light Rail project"
12:00 Lunch
13:00 Stephan Besier, StadtBahnGestaltung, Leipzig Consultant for Public Transport planning and expert for urban design of LRT infrastructure "Green Tracks - long term experiences helping you to find the right solution for your system"
13:30 Andy Wallace, Head of Safety, First Tram Operations, Croydon, UK "Improving Fatigue Risk Management in Croydon"
14:00 Alejandro Moreno, CEO, Midland Metro Alliance, UK "The 5 keys of Midland Metro Alliance"
14:30 PG Andersen, Trivector, Lund, Sweden "Tram Traffic Safety in the planning Face"
15:00 Coffee break
15:30 Frank Vansteenkiste, Chairman of the Board of Luxtram and Gouvernment Councillor for public transport, Luxembourg "The project story of the new tramline in Luxembourg - the "start-up mentality" within Luxtram"
16:00 Julian Krischan, ProBahn, Berlin"Why to change from bus to tramway"
Latest by 16:45 End of conference

/HB - kilde Light Rail Day
---
Relaterede nyheder: