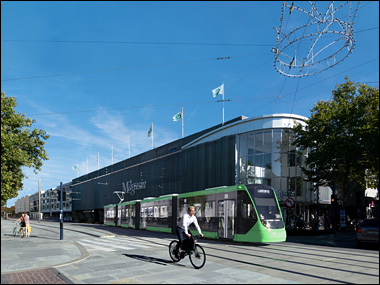 Visualisation of the innertown in Lyngby
Foto: Hovedstadens Letbane
Light Rail Study Trip Denmark

15.09.22
Studierejse for en international gruppe på 24 til Aarhus, Odense og Københavns letbaner.
D. 12-14/9-22 havde de tre danske letbaner besøg af en gruppe professionelle letbanespecialister fra otte lande, der ønskede at se de danske projekter på nærmere hold.
Rejsen var arrangeret af Letbaner.DK, Spårvagns-städerna og NLRA som en samlet pakkerejse på engelsk.

Program in english
We have visited three different Light Rail systems in different stages of completition. Aarhus have been operating for a while. Odense have recently opened, and Copenhagen are in the midst of construction.
The cities all have different characters, but have comparable conditions to many European cities and there are plenty of important experiences to learn from. We started the program in Aarhus and vent via Odense to Copenhagen.
The trip was organized in collaboration by Letbaner.dk, Spårvagnsstäderna and NLRA (Nordic Light Rail Association).

The program: