Study Trip to Paris, Lyon and Tours - CANCELED

19.04.23 (opdateret 03.05.23)
Unfortunately, we have to announce that this year's study trip to France has to be canceled due to a lack of participants.
Our study trips over the last few years have all been fully booked and despite many requests from our members to organize a study trip to France, the three organizations "Letbaner.dk" from Denmark, "Spårvagnsstäderna" from Sweden and the NLRA-Nordic Light Rail Association could not reach the minimum size for a group of participants. This is very unfortunate, because many hours of preparation went into the project. Not only for us, but also at our French partners!
---


This was our program:

Monday, 22. May 2023
Going to Paris and gathering. Cruise dinner on River Seine.

Tuesday, 23. May 2023
- Daytrip to Lyon with TGV-Train - At Egis HQ: worldwide involvement in tram projects, presentation of the line. - Highlights of the Tram "à la Française" through a visit of a tram line with Sytral (owner) and Keolis (operator).

Wednesday, 24. May 2023
- Morning: Meeting with Ile de France Mobilité, presentation of Paris network and how tram benefits to mobility and urban planning and development – Egis
- Afternoon hours: Visit of Line T9 (Tramway Paris-Orly) with Thomas Richez or Vincent Cottet The T9 Tramline is the latest tram built in Greater Paris. It is the first tram to wear IDFM identity, the transit authority, and not its operator identity. The design involves an important vegetation, meant to bring, on top of an everyday beautification and enjoyment, a cooling effect during summer nights.

Thursday, 25. May 2023
- Daytrip to Tours with Thomas Richez, TGV to Tours
- Tours, Richez_Associés has been the designing this project. Tours town councillors wanted to confer upon their tramway project a, rarely asked for, global coherence between the design of the rolling stock and street furniture, urban development and public lighting, urban vision and public art. This tramway made a new landscape within the city.

Friday, 26. May 2023
- Morning hours: Visit of Tramway Line 3
The T3 Tramline is "smaller Paris" belt line. The south, east and north part has been under operation since 2006, and the west one is under construction. We shall visit in the north Porte d'Aubervilliers section, where the tram crosses from east to west the redevelopment of formally McDonald warehouses, now turned into a new neighborhood, connects to a new railway station, and goes underground to leave crossroad capacity in Porte d'Aubervilliers, which will receive in the future a north-south tram.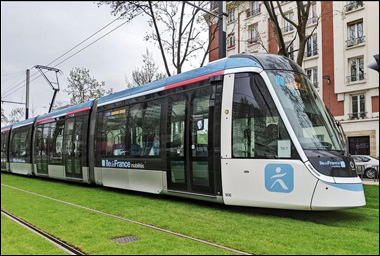 Paris nye letbanelinje T9 (Foto: Île-de-France Mobilités)

/NLRA, Spårvagnsstäderna and Letbaner.DK
---
Andre nyheder: