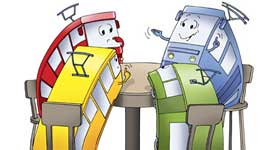 Light Rail Day 2018 - i Stockholm d. 5-6 november

27.08.18
Programmet for Light Rail Day er udsendt og der er åbnet for registrering.
Lighr Rail Day er den førende konference for letbaner i Skandinavien. Et af årets fokuspunkter bliver udfordringer for eksisterende letbanesystemer. Konferencen foregår på engelsk:

Monday 05.11.18
10:30 - Start Monday with an excursion to the new tram stop in City Centre "T-Centralen" and visit of the brand new Lindingö depot.
15:00 Back at the hotel the Nordic Light Rail Price will be awarded after the speeches of the day. Monday ends with our Networking Dinner.

Tuesday 06.11.18 - Conference day
08:30 Registration at the hotel

09:00 Mårten Ignell, Head of Project M33, Göteborgs Spårvägar, Sweden "M33 - the new tram for Gothenburg" 09:30 Mathias Sdun, Chief specialist, Urban planning and transport, Atkins Global "Lightrail in the context of Road Safety" 10:15 Christian Goubeau, Internation sales, Rail Power Systems GmbH, Germany "Extension of tramway line 7 towards T-Centralen - Design for a reduced visual impact of the catenary system" 10:45 Coffee break 11:15 Stefan Menzel, Operating Manager, Transport, Solingen-Stadtwerke, Germany "Motivation for employees through classic communication" 11:45 Johan Larsvall, Industrial Designer, Idesign AB, Stockhol, Sweden "Design of trams for the Nordic market" 12:15 Lunch 13:15 Johan C. Haveland, Director of Passenger Transportation, Bergen Bybane, Norway "How to measure the quality of a light rail system with the use of Key Performance Indicators" 13:45 Martin Schmidt, Technical Department, City of Norrköping, Sweden "The small things you never think about - How to keep your tramway-network up to date" 14:15 John Krause, Executive Director, Chicago Streetcar Renaissance, USA "Streetcar Chicago - from planning to start" 14:45 Coffee break 15:15 Engineer Volker Utke, Project Management & Sales, TÜV NORD Systems, Rail. "GAP-FILLERL An innovative contribution to accessibility for people with reduced mobility" 16:00 End


/HB - kilde Light Rail Day



---
Relaterede nyheder: